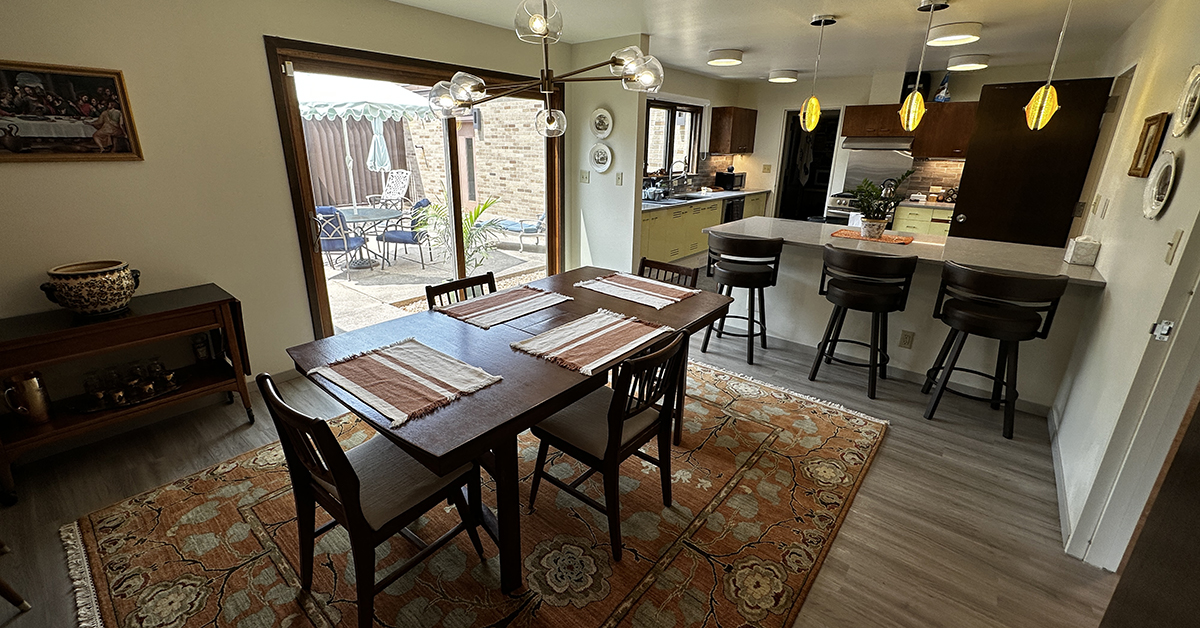 Have you ever walked into a 1960's time capsule? This was our experience remodeling the Rectory for St. Mary of the Lake Catholic Church in Plymouth, MN. The existing space was so outdated that the new 30-year-old priest's mom told him he could not live there.
No remodeling work had been completed in this separate facility for around 40 years. The hallways were covered in dark wood ribbed paneling. The kitchen and dining rooms were separate and small with busy floral wallpaper, damaged from years of smoking. Ornate picture frames hung on every inch of the walls in the dark hallways.
Being this was Father Zipp's first parish, he desired a space that would meet the spiritual and physical needs of the parishioners, fellow priests, and himself. He contacted Michael Knisely with Distyle Design for design help and Archimea and Larson Builders were brought in as partners.
Question of the project: How can the work to modernize the Rectory, update the residence/ guest suites, and make the attached office area more efficient, be done quickly, effectively, and within a reasonable cost?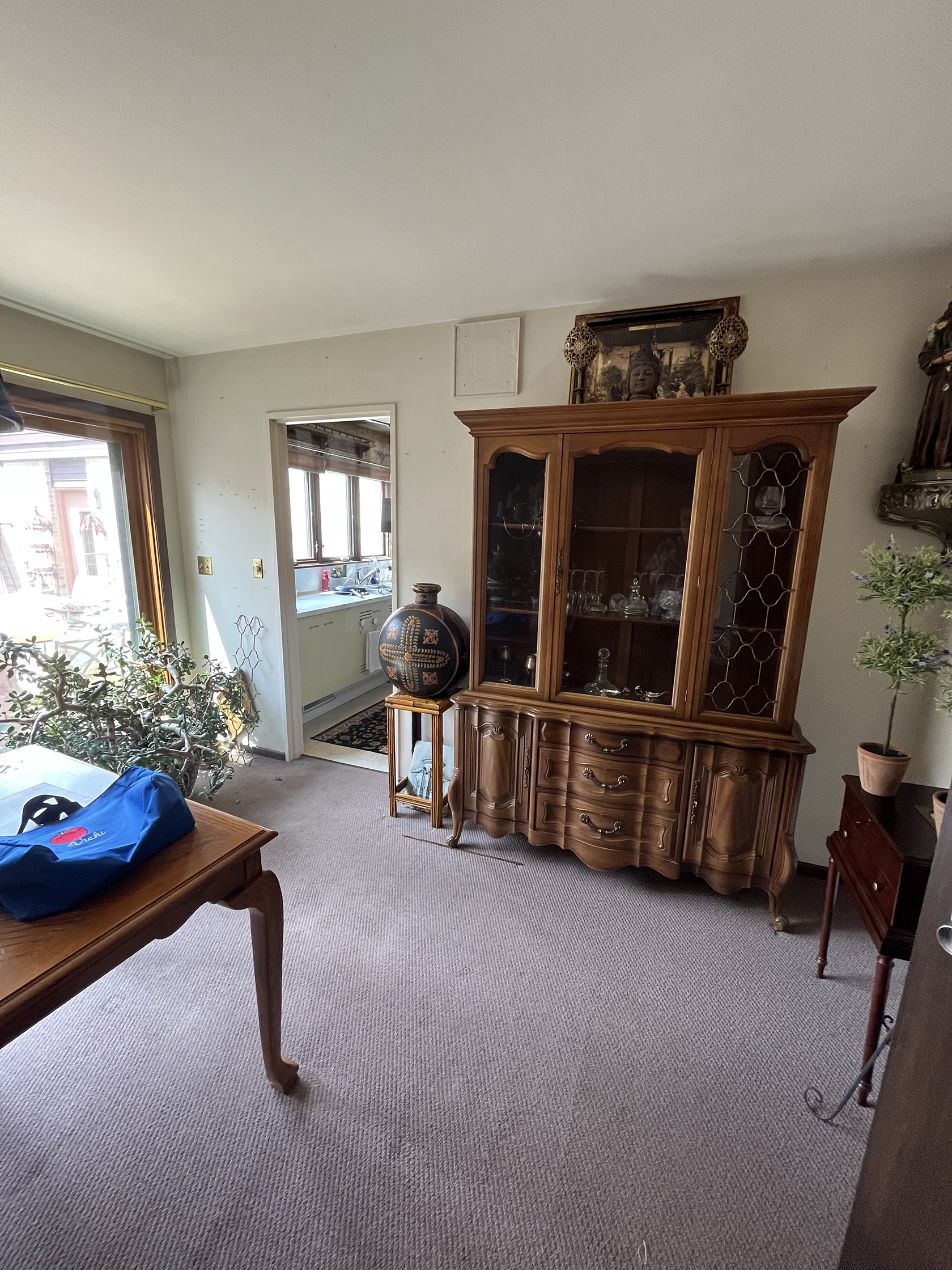 Original view from the dining room to the kitchen.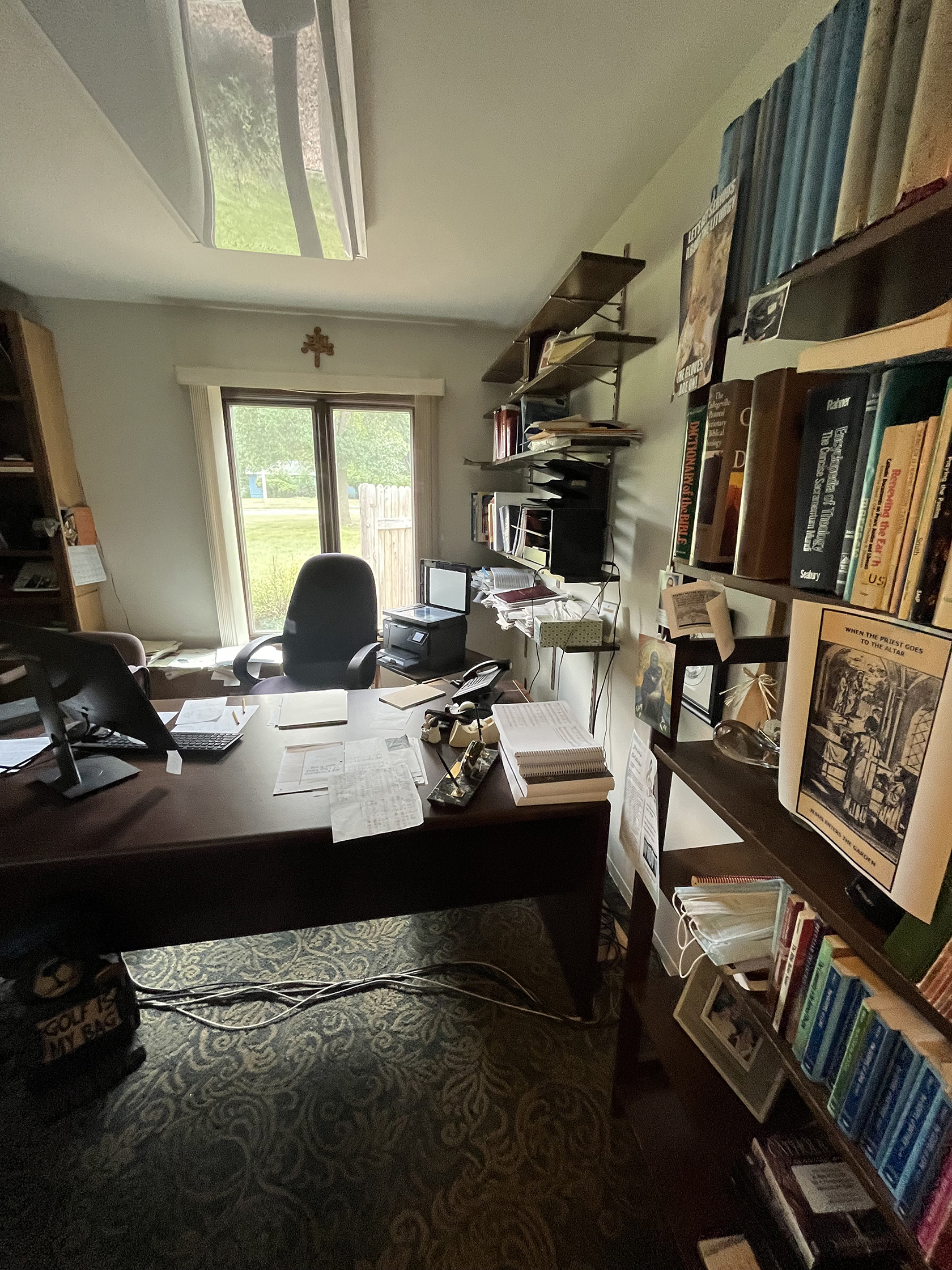 The original office space did not accommodate modern technology, ways of working, or collaborating.
The corridors were dark and covered in heavy, decorative mirrors.
Vision:  A place to reside, meditate and council that reflected Father Zipp's young and easy-going style.
As we went about this project, we wondered… how can a person be inspired to do important work while being placed in an environment that is truly not part of their soul? How can we help engage the church community to welcome Father Zipp to his new parish? How can a 30 something priest step out of the shoes of a retired priest and make their own place and space? How can issues be reasonably solved in different ways?
Design Directive:
Demolish elements instead of build to open and lighten spaces
Minimalistic with artistic accent lights (addition of fixtures presenting light as art)
Present light and clean elements, but with hints to the past (reuse vintage 1960's St. Charles yellow metal cabinets)
Keep elements of the old and include new openness and drama into the spaces
Keep cost down through reuse (door film, new accessible door hardware)
Use judicious restraint by being selective and minimalistic
Outcome to create a brighter, more open & Community-Focused space
The process started with removing the existing wall covering, dark wood paneling, carpeting, and fixtures. The walls between the kitchen and dining room were removed to create one big communal space. A breakfast island was installed in the middle where the priests could enjoy casual dining and exchange ideas.
Next, Archimea applied a softer paint palette. The main overall color was a warm grey with four alternating accents: eggshell, tangerine, sky blue, and pale violet. The color palette echoes the rainbow of colors expressed in the Church's banners and stained glass as well as its diverse congregation, offering inclusion and spiritual connection. Fixtures such as quartz countertops and vanity tops were added throughout to finish the look.
Lastly, a dramatic lighting fixture was installed at the top of the staircase landing. This was a central location that was visible from both the first and second floors. In this way, all the residents could enjoy the three-dimensional light and aesthetic it created.
Archimea re-used as much existing material as possible – both for sustainability purposes but also to pay tribute to the church's rich history. Many of the cabinets and wall mounted shelves were removed. An updated wood wallcovering was chosen to accent and emulate the 1960's style. And lastly, Father Zipp, instead of buying all new furniture, reached out to his new congregation for donations of chairs, end tables, and décor to complete the new look.
The color scheme was a warm grey with four alternating accents derived from the church's banners and stained glass windows: eggshell, tangerine, sky blue, and pale violet.
The newly remodeled space features a breakfast bar and communal dining area where the priests and council members can discuss ideas.
A stylish light fixture was installed in the stairwell to provide dramatic light and additional safety.
Father Zipp is pleased with the remodel because the new space will offer inclusion and spiritual connection.
Thank you to our partners!
Michael Knisely and Darren Kilker with Distyle Design Architects, Jason Kasanezky with Larson Building, Father Zipp, Perry Westphal, and James Kelzer with St. Mary of the Lake.